David's first two DVDs were later reworked, but here is your chance to add the originals to your collection.
Note: Not included in the 11 video download offer.
Hand Tool Techniques – Part 1: Plane Sharpening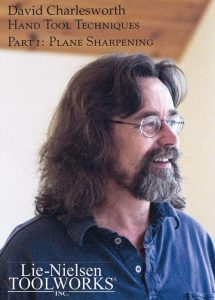 This first video explores David's techniques for sharpening plane blades. Learn how to get a razor sharp edge in minutes, and how to camber an edge with confidence.
"Using these methods, two waterstones and a simple honing guide, novices can produce a razor-sharp edge in less than four minutes after a few hours of practise"
Plane Sharpening features:
Keeping your waterstones flat
Preparing the back of your blade
The Ruler Trick
Honing the bevel
Preparing a curved blade
Re-sharpening a curved blade
Fettling the chip breaker
Assembly of the blade and chipbreaker and setting up the plane
Outtakes
Video download. Running time: 75 minutes. Lie-Nielsen Toolworks Inc.
Hand Tool Techniques – Part 2: Hand Planing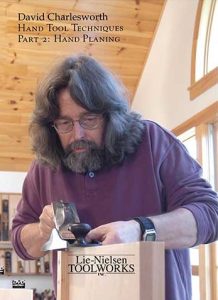 This video explores David's hand planing techniques for precise, efficient preparation of furniture-size components.
You will be astonished by the precision that is possible with a well-tuned, sharp hand plane.
This second video explores David's techniques for hand planing.
Hand Planing features:
Stop Shavings and Straight Edges
Datum Surfaces
Bumps
Face Edge
Wind
Thicknessing to a Guage Line
Planing End Grain and Square Edges
Placing a Knife Line
Bonus footage: Flattening your Benchtop
93 minutes. video download