Knob Profile

I have been asked to provide more detail about the shape of this knob. It is not the same as the early Stanley low knob. Unfortunately I can no longer do computer technical drawing, so here is a photo to show the profile.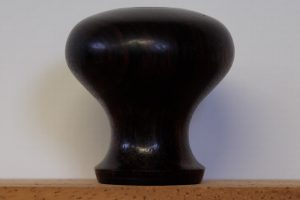 Not being a wood turner I found the processes for chucking interesting.
I made a plug with a centre hole for the top recess and drove the part finished work with a wooden turned mandrel, (held in a four jaw chuck).
Much of the finishing work was done with shaped scrapers made from old metal files. These work very well on dense exotics.
My final "finish" was burnishing cream, a trick I learned from David Pye.
Some dimensions.
Height 48.5mm. Height of Waist 12mm.
Diameter 47mm. Waist dia. 21.5mm. Base dia. 31mm.
Bottom recess 10mm deep, 14mm dia.
Top recess depth 12mm dia, to suit brass, approx 11mm
Centre through hole 6.5mm at bottom. 5mm at top.
Bevel at base to fit raised ring which is likely to be on the casting.
I started by drilling all holes in a block of finished height.
French curves are helpful for drawing the shape and perhaps a template.