Chisel Use DVD

I am excited about the latest DVD as it concentrates on techniques for chisel use.
Chopping and paring are demonstrated; with single lap dovetail work, a hand cut mortice, using the method shown by Bob Wearing in "The Essential Woodworker" and tennon shoulders.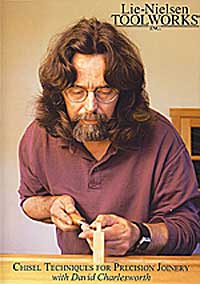 I feel that chisels are massively underated as tools for precision work. Accurate sawing was the speciality of the piece worker in a large shop, but we do not all have those skills, particularly in harder non compressible timbers.
My chopping method for shoulder lines, works very well indeed and is far more straightforward than some of the cumbersome paring techniques which I have seen described.
"The Essential Woodworker" is a classic book by Robert Wearing and I was pleased to discover that GMC have it in stock in paperback. Can't remember seeing it on their publicity recently……
best wishes,
David