BIG WHEELS

I am delighted to say that Richard Kell has started producing BIG WHEELS for his excellent honing guides.
His website reminded me that I badgered him to produce these some years ago when the guides were new. This was because the tool projection for the sort of angles I use, 32 & 35 degrees, was very short. I had to use a pencil with an eraser tip, to put downward force on a narrow chisel.
The No. 1 guide is particularly useful for honing narrow chisels perfectly square, a job which is otherwise very difficult. I am thinking of 1/16", 1/8" and 3/16" chisels.
There is a valuable tip for registering a tool perfectly on the guide bars in one of Richard's videos.
Once the projection has been set, the clamping force is set rather gently. Tool and guide are then turned upside down on the bench. He presses on the tool, near to the bars, and the flat side pings down into contact with the bars. Clamping is now firmed up and any subsequent honing will be perfectly square.
Replace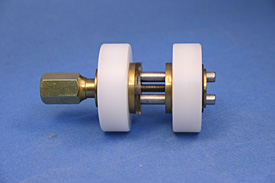 ment wheels are available from Richard Kell. Richard Kell
Please note that eye protection is essential when changing circlips